The RadMission is a slick, stylish single-speed electric metro bike for city riders craving more excitement and utility than your average fixie -- and at an introductory price of $999, it's available at our lowest price point ever. Don't let its simplicity fool you. With a 500W high-torque motor and 20-45+ mile battery range, it's ready to handle any mission.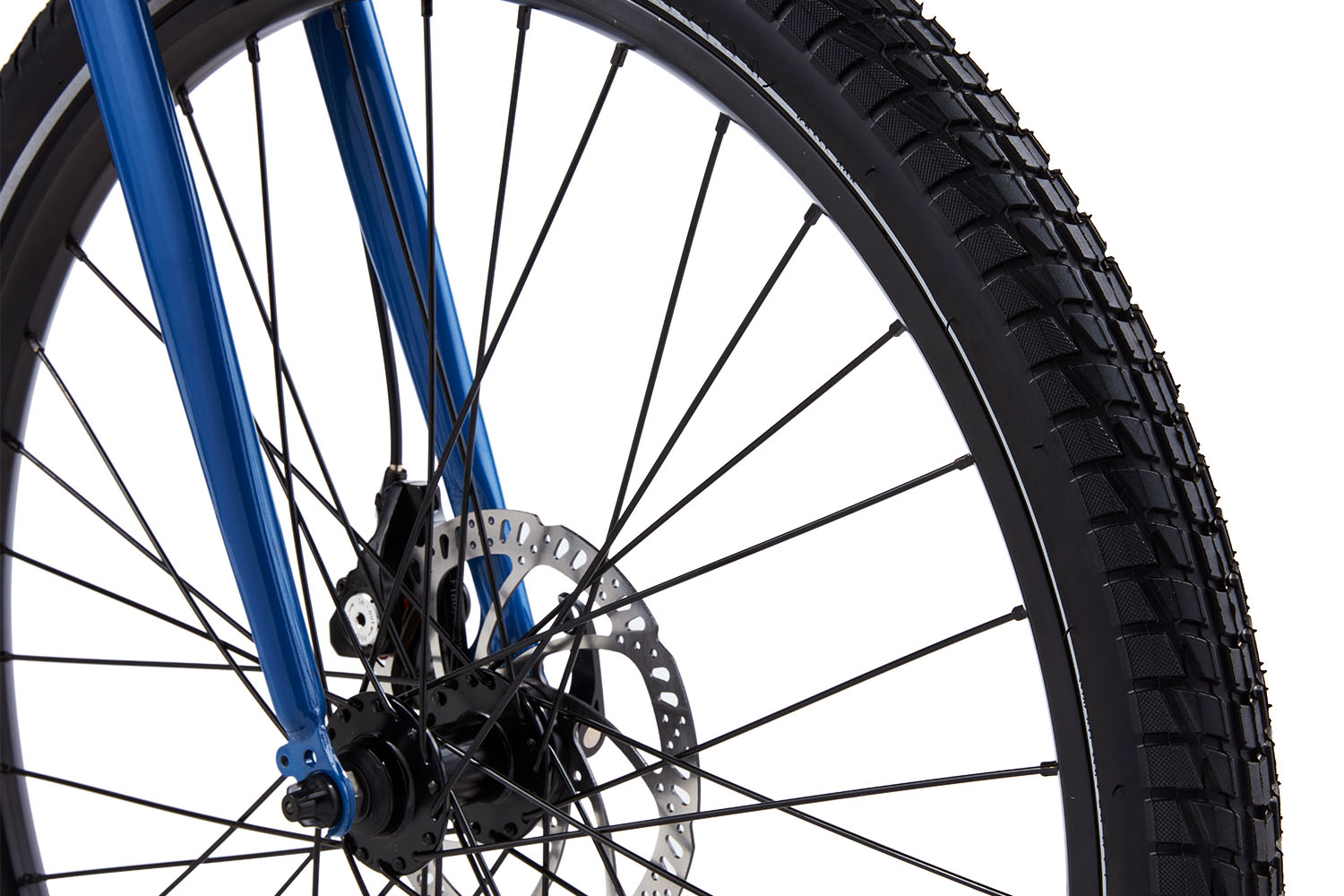 Narrow Tires, Double Aluminum Rims
27.5" x 1.95" Kenda Kontact tires with K-Shield puncture-resistant liners and reflective sidewalls. The tires are our narrowest yet, providing less rolling resistance and matching the reliable feel of a traditional commuter bike.
500W Geared Hub Motor
A powerful 500W motor provides 50 Nm of torque for a smooth, capable ride. Perfect for flattening your everyday hills.
Single-Speed Drivetrain
The single-speed drivetrain promises easy riding and low maintenance. Ideal for last-minute trips across campus or zipping around town on an urban adventure.
New, Innovative Battery Pack 
Features a new 48V 10.5 Ah 504 Wh battery pack. At ~7 lb, it's lighter than our standard battery pack, but still offers the 25-45+ mile range our riders expect. 
Lighter Weight
Live in a walk-up apartment? We got you. At under 50 lb, the RadMission is roughly 30% lighter than any other bike in our line-up.
Integrated Brake Light
Powered using the main battery pack and features brake light functionality that is activated any time the brakes are applied.
LED Control Panel
A straight-forward LED control panel means one click on and one click off, with additional buttons for lights and pedal assistance, and LEDs to indicate battery and assist levels.
Twist Grip Throttle
500W of power on-demand allows you to only use the throttle when you don't want to pedal. Ideal for starting from a stop or giving you a little extra oompf on those hills.
Order Cancellation/Shipping & Return Policy:
ORDER CANCELLATION POLICY:
We understand that sometimes customers have a change of heart and wish to cancel their order. Due to our commitment to process and ship orders as quickly as possible, we can only cancel orders up to 1 HOUR after they've been placed. To request an order cancellation, please email info@sparkwheels.com as soon as possible.
Note: After orders are successfully canceled, a refund is issued immediately but it may take 4 -10 business days for your bank or credit card company to release your funds.
SHIPPING POLICY:
Here at Spark Wheels, we are continually striving to process and ship orders as soon as possible and thanks to our amazing business relationship with our suppliers, we no longer carry inventory. All orders are shipped directly from the manufacturer. This greatly improves our order processing speed while allowing us to focus on adding new products/brands to our catalog.
Orders are processed between Monday - Friday Our manufacturers do not process or ship during the weekend or holidays. Order processing can take up to 72 hours ( typically much sooner ) Orders ship via UPS Order delivery is 4 - 10 business days after it ships. Orders placed before 3 pm EST ( Monday - Friday ) will usually ship the same day.
30 DAYS RETURN POLICY:
Defective:
Please email us within 10 days of delivery to notify us of any manufacturer defects. We apologize for the inconvenience and we'll make every possible effort to make sure you are satisfied with your purchase.
First, we would like to thank you for ordering from us but if for any reason you are not happy with an item you purchased from us, you may return it within 30 days of delivery* ( may differ by brand ). The following guideline (s) apply to all returns:
Products must be in their original packaging and unused To request a return, please email us with your order number at info@sparkwheels.com and you will be issued a return authorization number (RA#). Your return authorization number must be clearly marked on all shipping labels and must be written on a note or your packing slip and placed inside the package. You (the customer) are responsible for return shipping costs. Depending on the brand that you purchased, the product you're returning is subject to a restocking fee and a return policy:
30 Day Return Policy / Minus Any Shipping Charges / 20% Restocking Fee
Return Shipping:
Please consider using a trackable shipping service or purchasing shipping insurance. Neither we nor any of our manufacturers/suppliers/vendors guarantee that they will receive your returned item.
Refunds:
Once your return has been received and inspected, you will receive an email informing you whether your return has been accepted or denied. If your return has been accepted, a refund minus any restocking fees and shipping charges will be issued immediately. Denied returns may be sent back to you.
Missing Refunds:
There is often some processing time before a refund is reflected in your account. Typically it takes 3 - 5 business days before your bank or credit card company officially posts your refund.
Thank you for your interest in the products and services of Spark Wheels.
This Limited Warranty applies to physical goods, and only for physical goods, purchased from Spark Wheels (the "Physical Goods").
WHAT DOES THIS LIMITED WARRANTY COVER?
This Limited Warranty covers any Manufacturer Defects The warranty is only applicable to the original purchaser of the product.
HOW LONG DOES THE COVERAGE LAST?
It depends on our supplier's warranty, different warranty applies to different brands.
WHAT DOES THIS LIMITED WARRANTY NOT COVER?
This Limited Warranty does not cover any problem that is caused by: Conditions, malfunctions or damage not resulting from defects in material or workmanship Conditions, malfunctions or damage resulting from negligence, improper maintenance or modification- Damaged or destroyed by natural causes including but not limited to lightning, flood, or other natural disasters- Theft or loss of the Physical Goods Spark Wheels will not pay for shipping charges. The customer shall assume all risk of loss or damage while in transit.
WHAT DO YOU HAVE TO DO?
To obtain warranty service, you must first contact us to determine the problem and the most appropriate solution for you.
1/ What are the shipping times for your products?
We take 1-2 days to process your order and 2-7 days to deliver it to you.
2/ What will shipping cost?
You can enjoy Free Shipping on all orders in the U.S
3/ Do you ship all over the world?
No, We only ship in the United States.
4/ Where do we ship your product?
We ship only to the 48 contiguous states in the USA
5/ Do you provide product tracking/tracking information?
Yes, wait 3 days after your order and ask us via email.
6/ Missing some items from my order, what's going on?
Our products are shipped separately according to your order. For example, if it contains items from two different warehouses, there will be two deliveries. The rest of the order will certainly arrive shortly.
7/ I received a damaged item. What can I do?
We are sorry to hear that. Simply send us an image of the damaged item in question to the email address: info@sparkwheels.com and we will send you a similar replacement item as soon as possible.
8/ Where are you located?
We are located in the United States.
9/ I still have not received my order. What takes so much time?
We apologize for the delay. Sometimes shipping may take longer than expected due to weather, wrong address or COVID-19 shutdowns. You can instead track your order and see where it is at any time. If you still feel that you need help in tracking your package or would like to inquire about it, please contact us by email at the following address: info@sparkwheels.com or call us at +1 (801) 382 7345.